Kartik Poornima
The Dev Deepavali ("the Diwali of the Gods" or "Festival of Lights of the Gods) is the festival of Kartik Poornima celebrated in Varanasi. It falls on the full moon of the Hindu month of Kartik and takes place fifteen days after Diwali. The festival is also observed as an important day to bathe in Ganga.

The festival is a major tourist attraction, and the sight of a million lamps (both floating and fixed) lighting the ghats and river in vivid colors have often been described by visitors and tourists as a breathtaking sight. On the night of the festival, thousands of devotees from the holy city of Varanasi, surrounding villages, across the country and the world gather in the evening on the ghats of the Ganges to watch the Aarti.

Varanasi's prominence in Hindu mythology is virtually unrivaled. A city where the past and present, eternity and continuity co-exist.

Apart from the Aarti at the Dassaswamedh Ghat, all buildings and houses are lit with clay lamps. Nearly 100,000 pilgrims visit the riverfront to watch the river aglitter with lamps. Boat rides (in boats of all sizes) along the riverfront in the evening are popular among tourists, when all the ghats are lit with lamps and Aarti is being performed.

During Dev Deepawali, houses are decorated with oil lamps and colored designs on their front doors. Firecrackers are burnt at night, processions of decorated deities are taken out into the streets of Varanasi, and oil lamps are set afloat in the river, and, all ghats (Embankment of Ganga River) are lit up with millions of clay lamps by the locals. It's a spectacular view to see, and take back the memories of the life time in the heart.

Cost is INR 2500 per person, including pick up from your hotel, guide, Boat and a variety of snack food and soft drinks/Juices served on the boat while sailing. Please write to us, if you are interested to take this special, once a year, Boat Tour with us.




Kartik Poornima calendar

2016 - 14th November
2017 - 04th November
2018 - 23rd November
2019 - 12th November
2020 - 30th November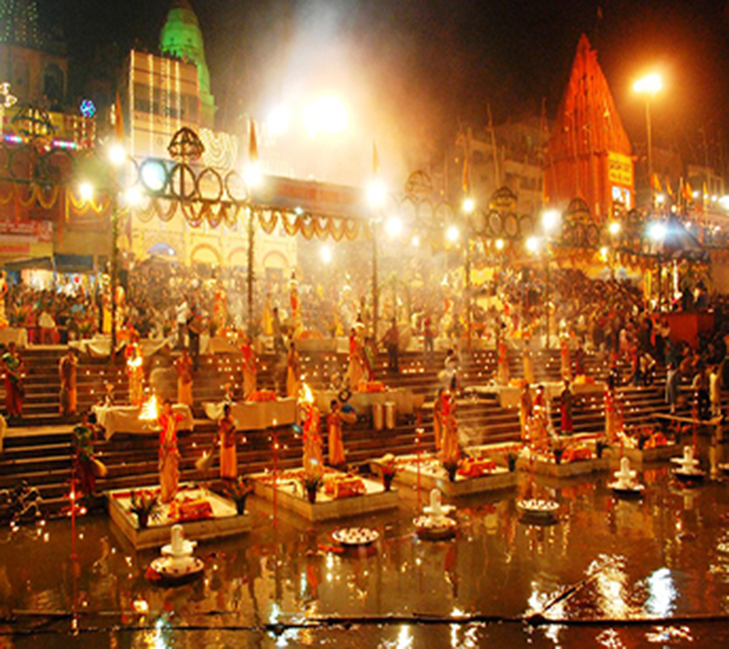 View All Walks